WELCOME TO SHOP21
The Colour Guides & Creative Supplies Online Store
Thank you for visiting SHOP21! We sell the Pantone and RAL Colour Charts, cards, guides and creative supplies, amongst a wide range of equipment and technology, such as X-Rite, to help people and businesses realise their creative visions and achieve their design objectives. We also sell the ProScope Digital Microscopes for multiple optical applications, from Crime Scene Investigations to Science Education.
We have been supplying creative professionals with colour management solutions since 1999, and always at the very best prices!
SHOP21 is structured to improve the efficiency of your procurement whether you are a low or high volume purchaser. We are a reactive store and our product lines will grow in the directions your requirements dictate.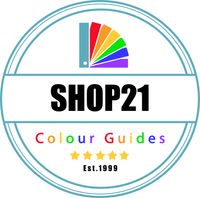 Why colour management is important
Why Buy From SHOP21
Value, Trust & Experience
Purchase from SHOP21 in complete confidence that your order will be professionally handled and securely transacted since you're buying from one of the longest established independent online stores in the UK and the EU. We always offer the best price possible for official UK stock, get in contact if you find it cheaper.
We have earned customers from across the entire spectrum of British and EU business, scientific organisations and educational establishment. They include the British Government, the BBC, The Beatles and BAE, amongst many others in our fast-growing portfolio of over 10000 highly valued customers. Check out some of our customer testimonials below!
Corporate, Public Sector & Educational Purchasing
Since we are one of the longest established online stores in the UK and the EU, we are able to take advantage of our position in this sector, to the benefit of our customers. Please contact us to discuss volume discounts and trade credit accounts if you are a corporate, trade, public sector or educational purchaser. Our corporate customers include media companies, manufacturers, product designers, advertising agencies, design houses, chemical companies etc.
European Union (EU) Purchasing
Are you a European Union VAT registered business? If so and you can provide a valid VAT registration number with your order we can offer you the ECG intra-community delivery VAT rate of zero per cent (0%) when purchasing from us.
Some Happy Customers
"Just a short e-mail to say thank you for processing my order with such professionalism and more importantly speed of delivery. I will no doubt bear you in mind with regards to future purchases. Thanks"

R.S, MP Support, Dept. of Trade & Industry, UK Government.
Very happy with product, swift delivery, excellent communications with SHOP21. Great product & very courteous service, would highly recommend! Thanks

Mr Leighton, Surrey
Amazing service! Product provided so quickly. Dan kindly answered all my questions swiftly & professionally & bent over backwards to get my product to me earlier than he needed too. Cannot fault the service or Product. Highly recommended.

Linzi, London
Excellent service and product!!

Ben, Lancashire
Brilliant service! Arrived the next day, well packaged and a VAT reciept followed. Thanks so much!

Rebecca, Tunbridge Wells
Great service, really helpful and quick to dispatch. Thanks again.

Jason, Berkshire
Fantastic communication when contacted, always quick to respond, very knowledgable & helpful. Couldn't recommend enough. Great experience over all.

Martin, Worthing
Initially didn't have exactly what I needed, but Dan got what I needed through his contacts, much appreciated - will use again!

Mr Atherton, Nottinghamshire
Brilliant- really pleased with service

Jenny, Lincolnshire